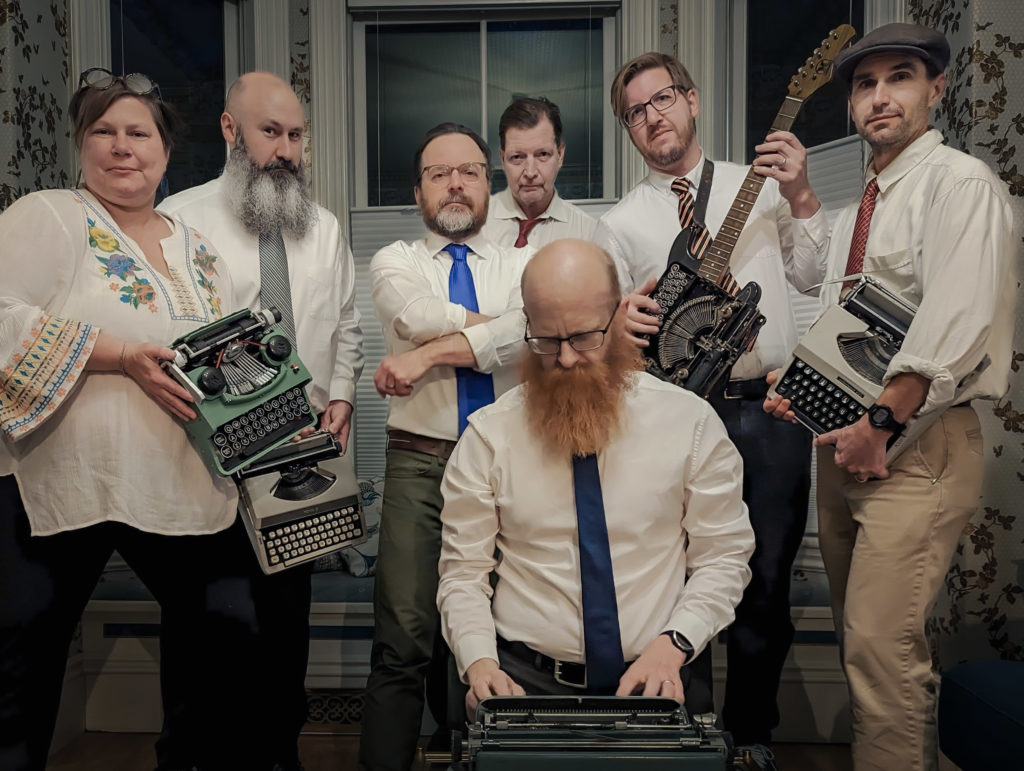 Join the Friends of the Robbins Library as we welcome the Boston Typewriter Orchestra (BTO) to the Robbins Library. The members of the BTO describe themselves as "a collective percussive ensemble for typewriter and voice based in the Boston area. Creative. Eclectic. Nostalgic. The BTO entertains with collaborative rhythmic, comedic, and satiric performances. Beyond the show itself, the BTO seeks to educate and evangelize the archaic machines they use, allowing folks an opportunity to connect with history and industrial technology, sometimes for the first time."
Liberated from the rules of traditional music, the BTO continues to reinvent itself with every song. Yet through the din, listeners can hear elements of dub, metal, musique concrète, kraut, French house, and garage to name but a few genres they routinely explore. Throughout, the BTO maintains office chic garb contemporaneous with the typewriters they play.
Founded in 2004, The Orchestra got its start appearing at house parties, art galleries, and street festivals. The group has since performed on local, national, and international radio and television and appeared in the documentary California Typewriter. BTO has released several singles and five albums, the most recent of which is a collection of remixes entitled Delegation.
BTO is: Derrik Albertelli, James Brockman, Alex Holman, Chris Keene, Giordana Mecagni, Jay O'Grady, Brendan Quigley. More information about the BTO can be found on their website.
Brave winter's chill and join the Friends of the Robbins Library for this highly entertaining, quirky event on on Wednesday, January 17, 2024 at 7 pm in the Robbins Library Community Room (lower level). It is free and open to all. Seating will be on a first-come-first served basis. Doors will open at 6:30 pm.